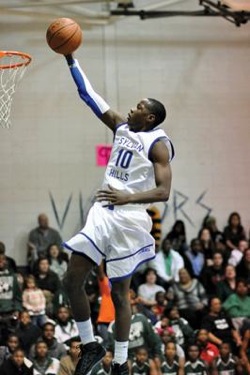 It's been an exciting, confusing and interesting few weeks for Archie Goodwin.
He trimmed his list to 10, then eight, then five. Goodwin then said he would likely wait until the spring to make a decision, planning to take all five official visits before sitting down and then committing. On Monday, he suddenly dropped Connecticut and Kansas from his final five and said he would decide within a few weeks from between Kentucky, Arkansas and Memphis.
The whirlwind couple of days continued Tuesday night, when he sent out a tweet: "Everyone stay tuned tomorrow morning it's going down!!!"
Everything culminated right before midnight on Tuesday, when Goodwin announced for Kentucky.
"If you don't know by now, I'm a Wildcat!!!" Goodwin tweeted.
Goodwin, a 6-foot-5 guard from Sylvan Hills (Ark.), might be the best scoring guard in the country. He attacks the rim with reckless abandon whenever there is an opening, and he knows how to finish with authority. Goodwin is very difficult to stop off the dribble, and his first step is one of the best.
He should fit perfectly into Kentucky's offensive system, which allows for creativity off the bounce. The Wildcats were often considered a favorite for Goodwin, although the in-state Razorbacks put a lot of their eggs in his basket. In the end, the allure of going to Lexington outweighed the nostalgia of staying at home.
Goodwin, ranked No. 6 by CBSSports.com, is the first Kentucky commit in the class of 2012. Some were worried about the lack of Wildcat pledges; those people shouldn't worry any longer.
Photo: Paul Fimpel