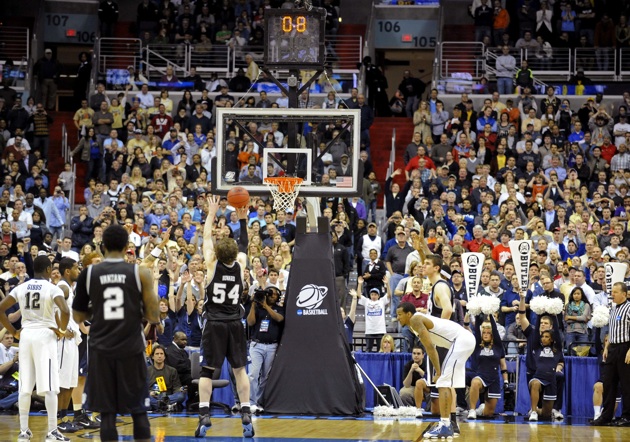 Posted by Jeff Borzello
Monday night's title game between Connecticut and Butler ended the 2011 NCAA tournament on a somewhat sour note, as Butler had a historically bad shooting night and neither team was particularly impressive for 40 minutes. This year's Big Dance, though, was a lot more than just the national championship game. The Final Four was the most unpredictable in history, with zero No. 1 or No. 2 seeds reaching the national semifinals for the first time ever. Two mid-majors reached Houston, including one that would not have been included in the NCAA tournament last season. There was Cinderella runs, upsets, buzzer beaters and outstanding individual performances – everything you could ask for in an NCAA tournament. When we reflect on the 2011 NCAA tournament, what moments will stand out? Here's one man's take.
10. John Calipari and DeAndre Liggins: The battle between Kentucky and North Carolina in the Elite Eight was one of the best games in the NCAA tournament. Big baskets by both teams, trash-talking from players, intensity all over the place. Up one with 35 seconds left, Kentucky's DeAndre Liggins knocked down a 3-pointer to give the Wildcats a four-point lead they would never relinquish. Liggins went over to head coach John Calipari, who hugged Liggins and gave him a kiss. Kentucky was going to the Final Four.
9. First day finishes: The first Thursday of the NCAA tournament is always must-see basketball. Last year was arguably the greatest first day in history, but 2011 gave it a run. Within the first seven games of the day, we had Butler senior Matt Howard's game-winning layup against Old Dominion; Temple's Juan Fernandez's leaner to beat Penn State; and Richmond's Kevin Anderson's running fallaway with 18 seconds left to clinch a win over Vanderbilt. There were two other buzzer-beaters in that first set that we'll get to in a bit.
8. Derrick Williams' block: Similar to what he did against Washington in the regular season, Arizona forward Derrick Williams saved the Wildcats' win against Memphis with his block of Wesley Witherspoon in the final seconds. It seemed as if Witherspoon had an open lane to the basket, but Williams stepped over from the other side of the basket to send Witherspoon's shot the other way. Arizona would escape, 77-75.
7. Bradford Burgess' layup: Down one with the ball under Florida State's basket with 7.1 seconds left in overtime, everyone was curious what Shaka Smart was going to design. Bradford Burgess slid to the basket, though, getting a perfect pass from Joey Rodriguez and beating Derwin Kitchen for a game-winning layup. Florida State would fail to get a shot off at the other, allowing VCU to win, 72-71, and advance to the Elite Eight.
6. Title game guards: Connecticut's Kemba Walker and Butler's Shelvin Mack knocked down too many big shots throughout the tournament – we could make a top 10 of plays by just Walker and Mack. Walker scored 33 points against Cincinnati, 36 against San Diego State and hit a clutch step-back jumper against Arizona to help get the win against the Wildcats. On the other side, Mack simply refused to miss in the final minutes of games. He knocked down a huge 3-pointer against Florida with 1:21 left to give Butler a lead, then went on a tear against VCU in the national semifinals.
5. Demonte Harper's jumper/Kenneth Faried's block: This was another one of the fantastic finishes from the first Thursday. Trailing by two in the final seconds, Morehead State's Demonte Harper hit a pull-up jumper from the top of the key with 4.2 seconds left to give the Eagles a one-point lead. At the other end, Louisville's Mike Marra seemed to have an open 3-pointer to win it – but Kenneth Faried skied out and blocked the shot, preserving the first round's biggest upset.
4. VCU beating Kansas: Everyone knew VCU needed to play the perfect game to beat Kansas. Well, the Rams weren't exactly perfect – and they still managed to win by double-figures. They became the third No. 11 seed to reach the Final Four, but they were the first team that needed to win five games in order to get to the national semifinals. Just three weeks earlier, people had been complaining that VCU was even in the NCAA tournament – Shaka Smart and company proved everyone wrong.
3. Arizona vs. Texas ending: Talk about a change of emotions. Texas led Arizona by two in the final 15 seconds, when Derrick Williams was blocked by Tristan Thompson. Jordan Hamilton called timeout when he picked up the loose ball. On the ensuing inbounds, Cory Joseph was called for a five-second violation – although the five seconds were only about four and change in reality. Arizona would throw it in to Derrick Williams, who finished a 3-point play to give the Wildcats a one-point lead. J'Covan Brown missed at the other end – Arizona would survive. Again.
2. Brandon Knight's game winners: Both of Brandon Knight's last-second shots could be top-five moments. In the second round, Knight drove the lane and made his only basket with 2.0 seconds left to hold off upset-minded Princeton. Knight was at it again in the Sweet 16. Facing top-seeded Ohio State, Kentucky was tied in the final 10 seconds. Knight drove past Aaron Craft and pulled up from the right elbow, knocking down a jumper with 5.4 seconds left to give Kentucky the win.
1. Pittsburgh vs. Butler ending: As soon as it happened, everyone knew it would be the defining moment of the 2011 NCAA tournament. Andrew Smith gave Butler a one-point lead with 2.2 seconds left on a layup. On the ensuing desperation play, Pittsburgh's Gilbert Brown was bumped out of bounds by Shelvin Mack. Brown went to the free-throw line, making the first. He would miss the second free throw, with the rebound falling in the arms of Butler's Matt Howard. When Howard tried to turn and heave it towards the other end, Pitt's Nasir Robinson barreled into him, committing a foul 90 feet from the basket. Howard would hit the game-winning foul shot and send top-seeded Pitt packing.
Photo: US Presswire