Posted by Eric Angevine


Wake up, hoops junkies. It's a long time until our season starts up again, but our fellow basketball fanatics can always be counted on to find interesting ways to keep our thoughts on hoops all summer long.
One such project that just started this May is Halcyon Hoops, the latest brainchild of writer Corey Schmidt. Just three posts into this new joint, Corey has already hit on an interesting question, following on the heels of Gary Williams' retirement at Maryland. To wit, "what does it take for a coach to get a court named after him?"
It varies more than you'd think. Length of tenure would be the first thing most of us would guess, and that holds true for the likes of Jim Phelan, who had the court named for him after a half-century at Mount St. Mary's. The median tenure for a coach with a court named after him is right around 20 years, right where I would have pegged it if I had to guess. But if that's the average, there must be several below that line, right?
Right. Of the 22 coaches Schmidt looked at, 12 fell below the mark. Billy Tubbs had seven years at Lamar, in a most unusual fashion: four years in the 1970s as he began his career, and then three more in the new millennium as he wound it down. The absolute shortest was Lefty Driesell's 5 1/3 seasons at Georgia State, which nevertheless earned him court-naming priveleges.
Here's Corey's full chart, which is a beautiful thing: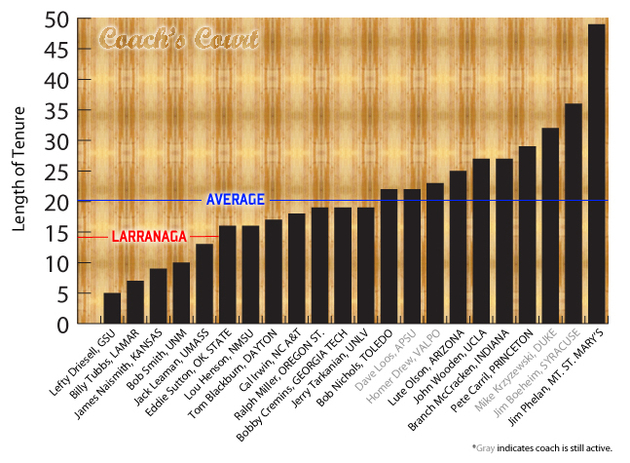 (Image courtesy of
Halcyon Hoops
. Don't credit me, I do not have these skills.)
The main question Halcyon Hoops aims to explore is this: will George Mason University ever name a floor after Jim Larranaga? 14 years falls short of the average, but that's obviously not the crux of the issue. If Larranaga were retiring instead of heading to Miami, he'd pretty much be a lock. Schmidt put it this way:
On merits alone, Larranaga would seem to fit the bill. He won games, had postseason success, and took the George Mason program to another level. However, the biggest challenge when evaluating whether to honor him with "Coach Larranaga Court" will be the way his tenure in Fairfax ended. The vast majority of coaches with courts bearing their names retired while still with that program. A few more years with the Patriots, and we wouldn't be having this conversation. But right now, Coach Larranaga is a Hurricane. He left Geroge Mason for somewhere else, and in the present, that still stings just a bit.
Indeed. It's actually kind of hard to imagine how this might play out in Larranaga's favor. If time heals all wounds, and a sizable chunk of the school's alumni are behind the honor, it could happen, but that might also depend on what happens to the program now that he's gone. If Paul Hewitt stinks it up and the team falters, does that make Masonites more or less likely to want to pay homage to the man who took them to such heights? What if Hewitt wins a bunch of games? Do his accomplishments overshadow the man who will then look like he left to play in a sandbox in the middle of the team's heyday?
The fact is, Larranaga deserves recognition for making George Mason University a household name amongst the hoops-savvy. Let's be honest. Right now, more people could accurately identify Jim Larranaga and tell you why he's famous than could do the same for the school's namesake,
semi-obscure founding father George Mason
. Larranaga's legacy may not be an eponymous basketball court. Maybe it will be a scholarship fund or a conference room or something less visible that bears his name. It's worth noting that the only thing named after Joe Paterno at Penn State (so far) is a library. But Larranaga should be honored in some way, and it really should be something visible and meaningful, even if the sting has to fade a bit in the interim.
**Update**
@GMUHoops makes a cogent point via Twitter: "A lot of people bring this up each year. Don't know if school would actually do it,
they don't even retire player jerseys
"
Photo: Halcyon Hoops