When LIU-Brooklyn clinched homecourt advantage throughout the Northeast Conference tournament, the Blackbirds became the heavy favorites to win the automatic bid. After all, they have won 27 in a row at the WRAC in Brooklyn. Jim Ferry's troops followed through, cruising to a 90-73 victory over Robert Morris in Wednesday's championship game.
C.J. Garner led the way with 21 points, as LIU-Brooklyn will head to its second-straight NCAA tournament. In the second half, the Blackbirds turned an eight-point halftime lead into a run-and-gun show, including a halfcourt alley-oop from Garner to Julian Boyd that gave LIU a 14-point lead.
With Boyd and Jamal Olasawere dominating the paint, and Jason Brickman controlling tempo and making plays for himself and teammates, the Blackbirds won't be an easy out. They like to get out and push the tempo, and they have plenty of finishers. LIU also has Big Dance experience, losing by 15 in the first round of last year's NCAA tournament to North Carolina.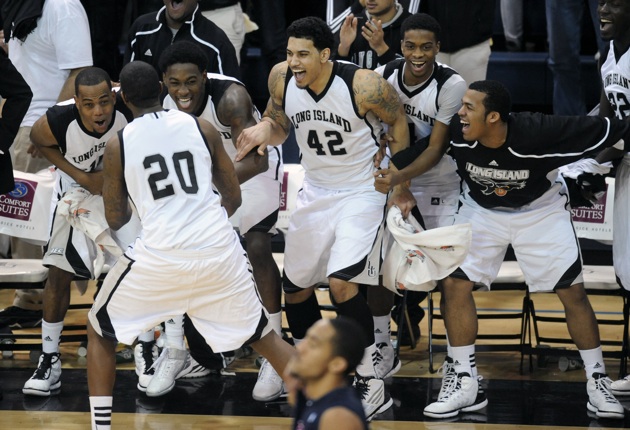 LIU-Brooklyn is heading to its second straight NCAA tournament after beating Robert Morris in the NEC title game. (AP)
Player to know: Julian Boyd. He was the NEC's Player of the Year for a reason, and that reason is his dominance at both ends of the floor. The 6-foot-7, 230-lb. big man is a load to handle in the paint and on the glass, totaling 14 double-doubles this season. He had 18 points and 10 rebounds in the championship win, and has finished with 20 or more points in five of his last eight games. Boyd won't be pushed off the block, as long as he stays on the floor (he's fouled out five times).
The Vitals:
Record: 25-8 overall, 16-2 in Northeast Conference
Most recent tournament appearance: 2011, 16 seed, lost to North Carolina
We're thinking: 16 seed
KenPom ranking: 174
Sagarin ranking: 163
RPI: 90
Best wins: vs. Wagner, vs. Vermont
Worst losses: at Hofstra, at Norfolk State, at Monmouth
Notable stat: The Blackbirds don't fly -- they run. The team averages 74.5 possessions per game, third-most in the nation.
-- Jeff Borzello and Matt Norlander