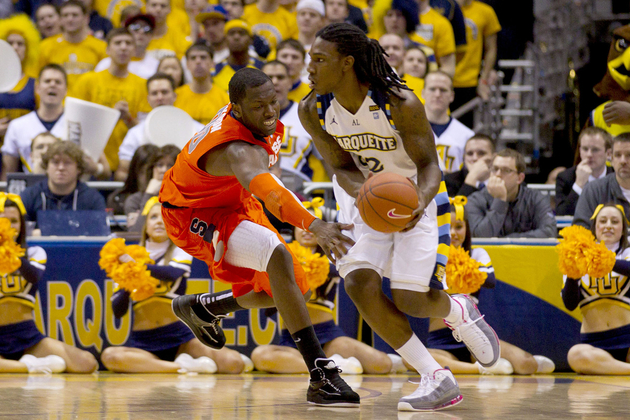 Posted by Eric Angevine


Talk about a huge game for Marquette. Since becoming a member of the Big East, the Golden Eagles had never beat Syracuse. That changed today, with a 76-70 home victory in front of an ecstatic crowd at the Bradley Center. The Orange dropped their fourth game in a row.
The obvious difference in this game was rebounding. The 'Cuse starters combined to grab just 12 boards all game long, and the team as a whole had only four offensive rebounds over 40 minutes of play. Ouch.
6-foot-6 junior transfer Jae Crowder had 25 points for his best scoring performance since dropping 29 on West Virginia. He grabbed six defensive rebounds as well, doing his part to keep the Orange off the glass and jump-start the Marquette offense.
Marquette showing up big late in the season after a slow start is nothing new to fans of the program. Head coach Buzz Williams basically admits that his teaching style takes a while to catch on.
"We're s
low in November and December because I'm not teaching them offense," he said in an interview at the beginning of the season. "By late January, we have rhythm and flow and they're not overthinking."

Right on cue.

The emerging flow was evident in the way the Golden Eagles dealt with the Syracuse zone. Using transition to score quickly and quickness to exploit gaps in the 2-3, Marquette's players were able to find enough room to shoot. Senior Jimmy Butler went 6 of 10 from the floor and 2 of 2 from deep to score 19, Darius Johnson-Odom had 17, and Dwight Buycks put up a nice all-around line of 6 points, 5 rebounds and 8 assists in the win.

Scoop Jardine had 13 points and 13 rebounds in a losing effort, and much-ballyhooed freshman big Fab Melo continued to disappoint, scoring just 2 points to go with 2 rebounds. Another freshman, Baye Moussa Keita, continued to outplay Melo, garnering 4 points, 7 rebounds and 2 blocks before fouling out.

Both teams are now 5-4 in the Big East, and have a lot of ground to make up in order to join the upper echelon of the sprawling league.

Photo: US Presswire