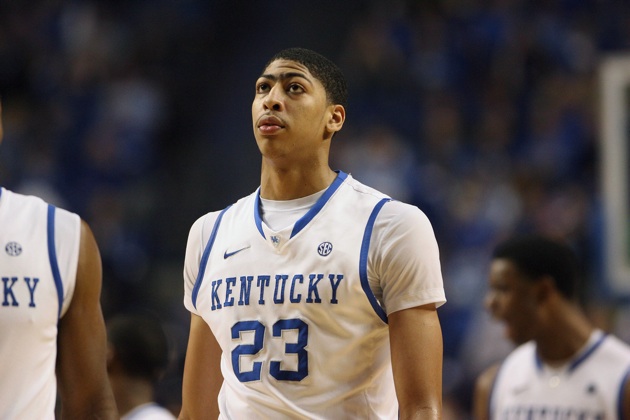 Unlike the close Player of the Year race, Kentucky's Anthony Davis is clearly the best freshman in the country. (US Presswire)
This will be the last Freshman of the Year rankings of the season, as we don't plan on releasing one on the first Thursday of the NCAA tournament and there's not much left to be decided. Unlike the Player of the Year race, which is still neck-and-neck heading into the conference tournaments, Anthony Davis has had this thing wrapped up since January. There was only one week where he didn't hold the top spot, and that was after teammate Michael Kidd-Gilchrist had a monster game in early December. Davis was simply dominant throughout the season, especially on the defensive end, and he got better and better on offense as the campaign progressed. In closing, congrats to Davis.
1. Anthony Davis, Kentucky (Last Week: 1): 14.4 ppg, 9.8 rpg, 4.7 bpg, 66.3 FG%
His offensive improvement down the stretch of the season has been extremely impressive. Davis is efficient inside and is now becoming a matchup problem with his face-up game.
2. Cody Zeller, Indiana (Last Week: 2): 15.4 ppg, 6.4 rpg, 63.5 FG%
Despite getting plenty of defensive attention throughout the season, Zeller rebounded from a pseudo-slump during the middle of the season to be a huge factor in a recent four-game winning streak.
3. Trey Burke, Michigan (Last Week: 3): 14.6 ppg, 3.4 rpg, 4.6 apg
Burke played extremely well late in the year, cutting down on turnovers and becoming more efficient from the floor. Has been extremely valuable all season for the Wolverines.
4. Michael Kidd-Gilchrist, Kentucky (Last Week: 4): 11.9 ppg, 7.8 rpg
Kidd-Gilchrist has struggled offensively in the last month, but he's still the freshman leader for the Wildcats. His activity on the defensive end and his transition game are eye opening.
5. Moe Harkless, St. John's (Last Week: 5): 15.3 ppg, 8.6 rpg
Although the question of whether he will enter the NBA draft has dominated his headlines recently, he finished with a typically dominant game: 25 points, nine rebounds in a loss.
6. Austin Rivers, Duke (Last Week: 7): 15.3 ppg, 3.2 rpg, 38.3 3PT%
Rivers really woke up in the final two months of the season, after not starting one game early in conference play. His game – and game-winner – against North Carolina was a defining moment.
7. Brad Beal, Florida (Last Week: 6): 14.4 ppg, 6.5 rpg
Beal didn't finish with a bang, going 1-of-10 in a 15-point loss to Kentucky. However, he stepped up his aggressiveness in the final six weeks, and started becoming a go-to-guy for the Gators.
8. Tony Mitchell, North Texas (Last Week: 8): 14.7 ppg, 10.3 rpg, 3.0 bpg, 56.7 FG%
Mitchell and North Texas fell just short of the NCAA tournament, but he was clearly the best non-BCS frosh this season. Only newcomer in the country to average a double-double, and he blocked shots too.
9. Tony Wroten, Washington (Last Week: 9): 16.3 ppg, 4.9 rpg, 3.7 apg
Wroten is one of the most productive all-around freshmen in the country, and he's tremendously fun to watch. However, he needs to be more efficient and not force as many shots.
10. B.J. Young, Arkansas (Last Week: NR): 15.3 ppg, 3.1 rpg, 50.6 FG%, 42.0 3PT%
It took him until the final week, but Young is back in the rankings despite his team having a rough final stretch. Young is ultra-efficient and can score in multiple ways. Going to be a star.
Notes:
The one player to fall out of the rankings in the final week was St. John's guard D'Angelo Harrison. He had a tremendous season and was in the rankings for most of the final two months. Leading freshman scorer in BCS-affiliated leagues.
Freshman leaders – Points: Kyle Vinales, Central Connecticut State (17.9); Rebounds: Tony Mitchell, North Texas (10.3); Assists: Dylan Garrity, Sacramento State (6.9)