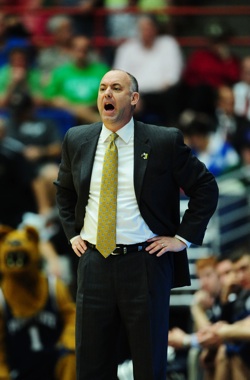 Ed DeChellis raised plenty of eyebrows in May when he announced that he was leaving Penn State to become the head coach at Navy.
After all, the Nittany Lions were coming off an NCAA tournament appearance and Navy has finished above .500 in the Patriot League just twice in the last decade.
For DeChellis, it was the perfect choice.
"This is where I wanted to be," he said Thursday by phone. "I enjoy getting back on the floor, I enjoy the stuff that basketball coaches do. Not the development things, not the going around and speaking. I can focus on my team.
"I'm looking at yachts coming into the harbor right now. It's a beautiful place. I don't regret the move at all."
There's no question DeChellis has his work cut out for him, though. The Midshipmen only won 11 games last season, but lost four seniors from that team. They return one senior – Jordan Sugars – that played more than 17 minutes last year. Navy also brings back six sophomores and welcome in a 10-man recruiting class.
With so many underclassmen, DeChellis plans on having a junior varsity team – and being serious about it. He wants at least a 14-game schedule for the JV squad, with seven or eight players on the roster. With as many as 19 players on the current varsity roster, it's certainly a feasible option.
"Just because you play JV basketball doesn't mean we don't think highly of you," DeChellis said. "You're going to be playing 12 games, 30-40 minutes a game – maybe you don't get 12 games for the varsity."
As for the varsity team, don't expect the Midshipmen to be as up-tempo as they were a year ago under Billy Lange. Last season, Navy ranked No. 27 in the country in tempo; Penn State was at the other end of the spectrum, ranking No. 341.
Sugars will lead the way, after averaging 16.0 points and 6.0 rebounds last season. He and sophomore J.J. Avila will have to carry the load offensively, although their individual offensive numbers might drop a little with the slower pace. Sophomore Isaiah Roberts is also expected to take on a bigger role.
"I'm trying to adapt to Navy, not sure about the Patriot League yet," DeChellis said. "We have a lot of games and practices before we get to January to figure out where we are as a program. I'm getting to know the players, trying to figure out what we want to know. We're figuring out what kind of things, offensively and defensively, give us a chance to be successful. For us, it's uncharted waters."
Annapolis, Md. is fewer than 200 miles from State College, Pa., but it's a world of difference when it comes to basketball, lifestyle and off-court responsibilities. It's certainly a distinct challenge; recently, one of DeChellis' seniors was awarded a spot in the SEAL training program.
Obviously, that type of thing doesn't happen at Penn State – and that's what DeChellis likes.
"That's what I came here for," he said. "I want to help mold these kids, help them become leaders and fulfill their dreams in the United States Navy. It's been different, but it's been a good different."
Photo: US Presswire