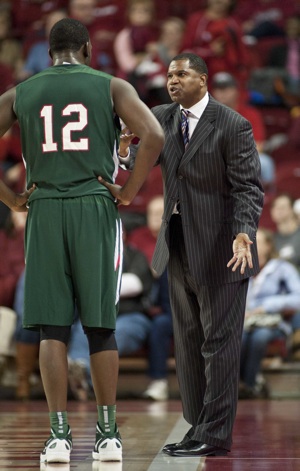 Sean Woods has led MVSU to a 15-0 start in the SWAC after going 1-11 in the non-conference. (US Presswire)
When the ball dropped on New Year's Eve, Mississippi Valley State was 1-11 and had lost seven games in a row. The Delta Devils had not played a home game all season, center Jason Holmes had missed the entire season with a knee injury, and things weren't looking great as the non-conference campaign came to a close.
Head coach Sean Woods wasn't overly concerned, though.
"We're a mature team, we have an upload of seniors," Woods said over the phone Tuesday. "It was just the mentality."
It turns out his confidence was spot on. The Delta Devils have won their last 15 games, clinching the outright SWAC regular-season title by beating Texas Southern on a last-second 3 by Paul Crosby on Monday night.
Not many teams trust their 6-foot-8, 250-pound center to knock down a game-winning 3, but that was designed.
"It's a play we have," Woods said. "Terrence Joyner was so hot; they were chasing the ball-handler coming off ball screens, leaving Paul open. We gave him one more chance to take a 3, and the guys executed it."
Trust has been a big part of the historic season so far for Woods and MVSU. All but three players on the roster are juniors or seniors, so they have experience and have therefore been able to overcome the loss of Holmes and Falando Jones, who has missed the last eight games with an ACL injury.
"Guys have had to step up," Woods said.
Woods, who played at Kentucky and hit the shot before "The Shot" in the Duke/Kentucky Christian Laettner game, had been there before with MVSU. In 2011, the Delta Devils went 1-12 in non-conference play before jumping out to a 6-1 record in the league and finishing in second place. Moreover, Holmes was injured that season as well.
Doing the same thing last year made the coaching staff optimistic about their chances this season.
"We returned a lot of guys that ended up in second place," Woods said. "Even that team turned around, after losing Holmes. If the status quo remained, we would be OK."
Mississippi Valley State can't rest on its laurels, of course. While the Delta Devils want to finish the regular-season undefeated, all that matters is what happens during the four days in Garland, Texas at the SWAC tournament.
If MVSU doesn't win the automatic bid, the unbelievable turnaround and winning streak will all be for naught. Woods is clearly aware of that.
"We're the hunted now, not the hunter," he said. "You have to stay consistent in doing what got you there. We've had it thus far, but we've got to make shots. We haven't shot the ball as well as we normally do."
Woods isn't even thinking about the accomplishments of the season so far. He's determined to get to the NCAA tournament.
When asked what felt better – staying undefeated or winning the regular-season title – he looked to the future.
"That's a good question," Woods said. "We still want to win games. We're not done."