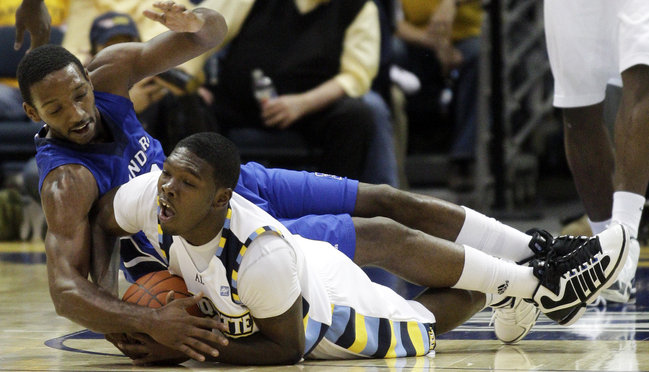 Posted by Eric Angevine

Ah, teenage romance. It's so intense, yet so short-lived.
In December of 2009, Reggie Smith was all "It clicked real fast," and "
I was meant to be at Marquette
."
One year later, the Golden Eagles and Smith were still an item. As a freshman, he started five games at point, but the relationship obviously wasn't exclusive any more. Buzz Williams started casting wayward glances at Junior Cadougan and Vander Blue while
Smith was out sick
.
Now, Smith seems to be
pushing his former paramour away
to forestall worse pain down the road.
Smith failed to report back to MU on Christmas night, as was required for Golden Eagles players after a three-day holiday break, didn't show up for a scheduled doctor's appointment and then didn't take part in the first of the two practices the team held on Sunday.

That led to a meeting between Smith, Smith's stepfather and coach Buzz Williams.

"Reggie didn't say anything; it was just his stepdad," said Williams. "The meeting was three minutes in duration, and the only thing that I knew was he wasn't playing as much as he would want."

-Todd Rosiak, Milwaukee Journal-Sentinel
Call me callous, but neither party seems too broken up about it right now.

Where will Smith look next? He's from Illinois, and this is Demetri McCamey's last season in Champaign. That's a possibility. Then again, back before he slipped on Marquette's class ring, Reggie Smith was quite taken with the USC Song Girls basketball team. L.A. probably sounds pretty good to a guy who's digging out in Milwaukee right now. Wherever he goes, he should be available to play in the 2011 after sitting out just the fall semester, and that has to be an attractive option for several schools that lack a strong point presence right now.
Photo: AP