Coming off a year filled with moments that many would love to forget, the Memphis Tigers are nevertheless dancing once again. After trailing UTEP on its home floor throughout the entire Conference USA championship game, freshman Joe Jackson was fouled with 7.5 seconds remaining and calmly drained two free throws to give Memphis an improbable 67-66 victory. The Tigers were down by as much as 12 in the second half and even had a deficit of 9 with under 5 minutes to go. But led by some clutch shooting by Jackson and Chris Crawford, Memphis clawed back to punch a ticket for another NCAA tournament after last year's uncharacteristic absence.
When the final horn sounded, Tiger coach Josh Pastner ran onto the El Paso court, fists pumping with such energy that he gave off the vibe of a well-dressed Memphis frat guy who had broken C-USA security. While he quickly composed himself for the post-game handshakes the feeling of sheer excitement certainly stemmed from what has been a bizarre and stressful year inside the Memphis program. If there is a stress that could befall a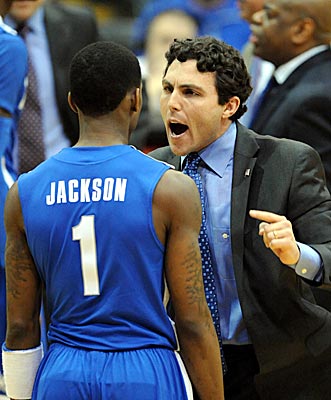 major college basketball team, Memphis has had it, from the Wesley Witherspoon suspension to the release of highly touted freshman Jelan Kendrick to the underachievement of the Tigers' highly touted freshman class, problems have constantly manifested. No team in America has received more criticism, most of it deserved, than the Tigers and none have been more embattled on a daily basis than Josh Pastner's group.
The stress reached a breaking point in El Paso, where freshman Jackson broke down with his friend, walk-on Trey Draper prior to the tournament. After having underachieved throughout the season and feeling he had let his family and city down, Jackson vowed to come strong with a complete Conference USA tournament. What followed was one of his best three-game stretches of the season, in which he was a crucial component of each victory. Against Southern Miss, he hit two late free throws to give Memphis its final lead and then followed that performance up with a career-high 24 points in a semifinal victory over East Carolina.
But both of those games will pale in Tigers' fans memories behind the free throws Jackson drained on a Saturday morning in El Paso. Forced to play on their opponents' home court and with a 9:30 a.m. local start, Memphis's struggles throughout the game seemed entirely predictable. But the Tigers found a way to overcome their early poor play and a loud Miner crowd in order to stay within striking distance early. Then with five minutes to go, the young Tigers looked more poised and executed better than a Miners' team loaded with seniors playing at home. While UTEP played with a hesitancy of a team realizing what was at stake, Memphis attacked with aggression, producing an impressive performance that speaks well of the Memphis players and Josh Pastner.
Memphis now moves onto the NCAA tournament, where it will try to overcome a season of disappointment by continuing its strong postseason run. This is still a very talented Memphis team, albeit one that has traversed an unbelievably bumpy road. Two weeks ago there were rumors that Jackson and fellow freshman Will Barton might look to transfer, and the entire Memphis program looked to be in serious flux. Now the team is heading to the NCAA tournament as a talented, and dangerous, double-digit seed. If you are the type that likes gritty underdog stories and supporting those that have overcome adversity, you may want to try this Tiger team out. It is true that there aren't many Disney movies made about heartwarming teams that win you over with players who were previously suspended for mocking assistant coaches. But if there was one that could overcome its past problems due to sheer effort and resiliency, it would be this suddenly likable group of Tigers, who are dancing once again.
Posted by MATT JONES