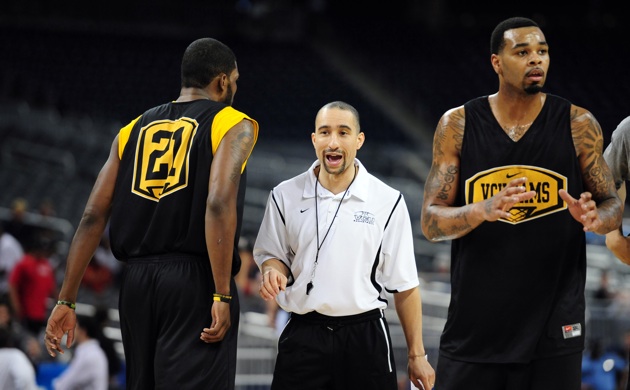 Posted by Jeff Borzello
HOUSTON – On the surface, it's not a weird sight: Shaka Smart jumping around, full of energy, getting his players motivated.
It's normal to see it during a game, while Smart is on the sideline. But in practice?
Smart and the other VCU coaches were involved in a drill at the end of the Rams' practice on Friday, running around the court and throwing the ball, while having the players chase the ball or draw charges. It finished with Smart saving the ball from going out of bounds and then the players huddling around him.
"We've been talking about how important some of the defensive things are to the game tomorrow night," Smart said. "Our coaches figured we would step in and put our bodies where our mouth is."
Apparently the only people were surprised were the onlookers – this is a regular occurrence at VCU practices.
"Usually when our other point guard, Darius [Theus], messes up or something, he'll try to hop in in practice, tell him to get out of the way, run the offense. When he's done, he's like, 'Yeah, just like that.' He does that a lot actually," senior Joey Rodriguez said.
"If anything, it's that, just hopping in and trying to prove to people that he can do what you're supposed to do in practice."
Smart is one of the younger coaches in college basketball, only 33 years old. Still, the majority of 33-year olds that can move around like that on a basketball court are professional basketball players.
At least we now know where the Rams' players get their energy during games.
"Coach Smart is an energy bunny," senior Ed Nixon said. "It makes us feed off him. If he can do it, we can definitely do it."
VCU has been feeding off Smart's energy and enthusiasm all tournament, with the Rams' up-tempo style and extreme ball pressure defensively carrying them to Houston. They look like they're enjoying playing with each other and just seem happy to be playing in the NCAA tournament and under this sort of spotlight.
Smart and his players all talk about the looseness they need to play with, both on the sidelines and on the court.
It's not often you see Smart ripping one of his players in front of the crowd, or see him yelling at a referee incessantly. In fact, the technical he drew against Kansas was only the second he has received in two seasons. According to Smart, it was not because of anything he said – he simply went on the court too quickly.
"I've got to control my pace as I move toward the officials," Smart joked after last week's win over Kansas.
He certainly doesn't control his pace during practice, as evidenced by the "Iron Man" drill everyone saw on Friday.
"That gets us very excited, just to see coach running around," guard Darius Theus said. "Sometimes you think, 'I wonder if they can do that.' They're putting effort into it."
"It just makes you want to play that much harder," freshman Rob Brandenberg added. "If they can do it, we've got to have 10, 15 times more energy."
Heading into Saturday's national semifinal tilt against Butler, VCU does not need any added motivation. If the Rams win, they continue their improbable Cinderella run towards a national championship. They're already advanced further than any VCU team in the program's history, and will be the first No. 11 seed to reach the national title game.
However, while it's unlikely they didn't know before, the players now know Smart and the other coaches are just as eager to win a championship.
Said forward Juvonte Reddic: "It makes us know they want it as bad as we do."
Photo: US Presswire