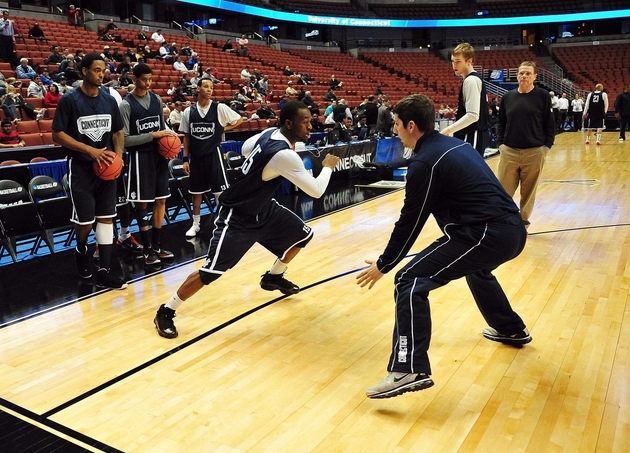 Posted by Eric Angevine

Anaheim -- On Thursday, March 24 the San Diego State Aztecs will face a Player of the Year candidate in a huge game. This single player can score at will, and makes his team a threat to beat anyone, any time by his mere presence on the floor. Kemba Walker is the man they'll have to stop to have any chance of making the Elite Eight.
For most teams, this would be a daunting experience. For the Aztecs, this is the fourth time this season they've had to prepare for something like this.
That's because the Aztecs play in the Mountain West conference, where Jimmer Fredette plies his trade. SDSU was swept by The Jimmer in two regular-season meetings, but gained a measure of revenge on the third try, beating their arch-nemesis to win the MVC tournament crown.
Asked to compare Walker and Fredette, San Diego State's underrated point guard D.J. Gay pointed out that the two players differ quite a bit when one goes past the surface comparison of volume scoring.
"
I think the difference is that Jimmer is more of a 3-point threat," Gay said. "As for Kemba, he gets to the basket at will and his mid-range game is close to perfect. Both are very hard guards to play against, both very good scorers, but one, you're picking up at the half-court line and the other one you constantly need help within that 3-point range."

That actually makes it sound easier for the Aztecs, right? If there's one area they dominate, it's inside. If Kemba wants to test out his drives and mid-range jumpers against San Diego State in Anaheim, that's good, right?

Not so fast, says Aztecs head coach Steve Fisher.

"

You can't foul him," Fisher said. "He's

a deadly free-throw shooter and I believe he's

gotten 76 free throws in his last seven games.

You've got to keep him off the line. He

knows how to draw fouls. He's lightning quick with

the ball."

Oh. So, there is a plan, right?

"

Well, he scores 35,

40% of their points and takes about that many of

their shots, so we better have a plan in terms of

what we want to try to do," said the veteran head coach. "

We've got to keep him on the outside,

challenge his perimeter shot, minimize the number

of free throws and layups he gets. It's easy to say,

hard to do. He's not scoring 26, 28 points a game

for nothing."

It's worth noting that San Diego State got off the schneid against Brigham Young only after Brandon Davies was suspended, suggesting that there may be more to all this than just watching out for one superstar player. In the UConn frontcourt, Alex Oriakhi plays something close to the Brandon Davies role. He obviously won't be suspended like Davies was, but the SDSU big men might find it easier to limit Oriakhi if their assessment of Walker's three-point effectiveness is accurate.

Now that we have some idea what the game plan will be, it will be very interesting to see if the Aztecs can implement it tomorrow. If they finally succeed in shutting down Walker, they'll have done something nobody else has done this postseason.

Maybe that early dose of Jimmer was just what the Aztecs needed to prepare for the Sweet 16.

Photo: US Presswire