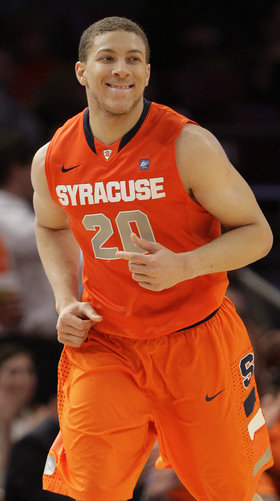 Posted by MATT JONES
As the horn ticked down the final seconds in Tallahassee on Wednesday night and it became clear that No. 1 Duke would drop from the rank of the unbeatens, the refrain from the pundits in the sports world could be heard once again. "It is impossible to go undefeated in college basketball now and I guarantee it will never happen again!" In reality, it is hard to argue that point. No team has gone undefeated since Indiana in 1976 and with the exception of UNLV in 1991 and Memphis in 2008, no team has really come all that close. College basketball has seen a seismic shift due to the increased attention on basketball in all BCS programs, early entry into the NBA Draft and a changed television landscape that allows more than just the top ten programs to sell the idea of regular national exposure. In that landscape, realistically there are simply too many land mines for a team to ever complete an undefeated season.
Realism however, is overrated. Anyone can say something can't happen. It is much more fun to imagine what could be. In that vein, it is worth exploring which of the four currently undefeated teams is most likely to finish the season without a blemish. To navigate such a road, a team must possess four important traits:
1. Top-Level Coach:
Every team, no matter how talented, will be faced with 2-3 games that will be won with late coaching decisions and end-of-game scenarios in which a particular designed play, substitution or defensive adjustment is the difference between victory and defeat. A few years back, current Minnesota coach Tubby Smith told me that coaching was about two things primarily, pre-game preparation/motivation and making the right decision in the last two minutes. With close games inevitable for any team looking to go unblemished, there simply must be a master tactician on the sidelines.
2. Adaptable Personnel:
Great teams can come in many shapes and sizes. The 1992 Duke team was built around three superstars (Laettner, Hurley and Grant Hill) and a group of talented role players, the 2007 Florida team had a core starting five as good as any in the last 25 years and the 1996 Kentucky team simply tried to overwhelm its opponents with eight future NBA players. However each of these teams had a vulnerability that when exploited, caused the group to drop random games during the season. An undefeated team must have a very unique quality. It must be adaptable to any style of play and with no obvious stylistic weakness. If your team can't shoot, isn't athletic enough, doesn't play hard-nosed defense or can't rebound, chances are you will face one team on your schedule whose best strength is exploiting that weakness, and your undefeated run will end.
3. A Favorable Schedule:
In order to go undefeated, it isn't simply enough that a team be great, its opponents need to also be decidedly mediocre. Every team will face at least eight conference games on the road and potentially another couple of tough games on the road or neutral sites in the non-conference season. Those are at least ten chances to slip up without your home crowd there to rescue you from a bad game. If these opponents are teams like SMU and Houston, as Memphis faced in 2008, the chances of an undefeated season are much greater than if you get UCONN and Pitt. Schedules matter and if an undefeated team is ever to exist, chances are they will play a weak one.
4. Luck:
You don't go undefeated without winning at least one game you should/could have lost due to a favorable bounce, loose ball or questionable call. Again, go back to the team that came the closest to accomplishing this feat, the 2008 Memphis Tigers. In two games, Memphis was defeated by end of game shots. If Mario Chalmers misses one three-pointer just an inch to the left or right, John Calipari and the Tigers become immortal legends. Nothing Calipari did (well, except not fouling before the shot went off) had any effect on the shot, but rather his team's fate was in another's hands. Chalmers takes the shot, the ball goes in and 1976 Indiana remains the gold standard. One moment changes history and for an undefeated team, that 50-50 moment must fall with them, instead of against them.
With those four requirements in place, the question then becomes,
which of the current undefeateds best meet the criteria?
Currently, we are left with Ohio State, Kansas, Syracuse and San Diego State as the sole remaining undefeated teams and in reality, none is likely to approach an undefeated season. However with realism not our goal, it is worth ranking the teams in order of potential to reach undefeated immortality:
1. KANSAS
The Jayhawks' stellar play has been one of the surprises of the early season and with the experience returning from last year's disappointing NCAA Tournament exit, there is a core group of players who have tasted enough big games to contend come March. Bill Self has a National Championship under his belt, but he does have detractors who believe that his in-game adjustments leave something to be desired. Kansas has already survived two games it could have lost this year against USC and UCLA and has an overtime win on the road at Michigan that it was fortunate to escape. The roster is likely the most diverse of all the undefeated teams, with the Morris twins and Josh Selby ensuring that there will be no team the Jayhawks can't score on, or defend. The Big 12 is good, but not great, and with the disappointing play of Kansas State, a couple of games that seemed like hurdles now seem a bit more doable. The only ranked teams the Jayhawks will face on the road are Missouri and potentially Kansas State, thus putting Kansas in the spot of most likely to accomplish this impossible dream.
Most Likely Loss:
Missouri, in the final game of the regular season. In the unlikely event Kansas comes in undefeated, Mike Anderson's squad will ensure that no team goes into NCAA play without a blemish.
2. OHIO STATE
The Buckeyes have a superstar in Jared Sullinger and a balanced attack that allows a number of different scoring options depending on how teams choose to defend them. Like Kansas, Ohio State can adapt to a number of different styles and are likely only vulnerable against a team that runs and can put up points in a hurry, a type of play that it doesn't see in the Big Ten. Thad Matta is one of the most underrated tacticians in college basketball and his ability to produce a gameplan specifically designed to exploit his opponent's weakness is consistently undervalued. He has in the past been to the national title game with a young big man and Ohio State wins more than its share of close games. Early this year, the Buckeyes haven't been tested a great deal, but they play in the Big Ten, which this season is the best conference in America. The schedule includes road games at Illinois, Wisconsin, Minnesota and Purdue. Matta gets Michigan State in Columbus, but the run of road games against good teams makes for a couple of likely stumbles.
Most Likely Loss:
Minnesota on February 6. Tubby Smith's team does not necessarily like to run, but it can shoot and has size in order to attempt to neutralize Jared Sullinger. Smith will need a top win at home and this is exactly the type of game he takes pride in stealing.
3. SYRACUSE
No team has been consistently overlooked more often this season than Syracuse. The combination of the "never leave New York" non-conference schedule and the disappointing ending in last year's NCAA Tournament has made the 'Cuse a team with more than its share of skeptics early. Jim Boeheim is one of the best coaches in America and is one of the best at the tactical side of the game. He does however have one of the least adaptable teams among the Top 10 however, as Syracuse has shown itself to be vulnerable to any team that tries to push tempo and can hit threes at a rapid rate. The schedule is brutal, with road games at Pittsburgh, UCONN, Villanova and Georgetown. Syracuse isn't a contender to go undefeated, and its main concern should be finishing in the top three in the Big East.
Most Likely Loss:
Pittsburgh on Monday. Pitt is better on both offense and defense and will have a home crowd rocking for the national television audience on Martin Luther King Day. The Orange ride ends then.
4. SAN DIEGO STATE

The Aztecs are a great story, playing in the forgotten Mountain West and bringing the name Steve Fisher back to the mainstream. The team is on the precipice of a top 5 ranking and is getting national attention for the first time in decades. After making the NCAA Tournament last year and with a roster of experienced and talented players, San Diego State is for real. Steve Fischer is a much-maligned figure, who is often given the label as "worst coach to ever win an NCAA title." Still, one can't argue with how he has built the San Diego State program and his winning percentage is impressive. San Diego State matches up well with a host of different teams, but could struggle with the talent gap if it plays one of the other top teams in America. The schedule is harder than it may appear, with three very difficult road games at New Mexico, BYU and UNLV highlighting the rest of the season. Even if it were to get through that run, San Diego State is not a team built to win a championship and would fall in March.
Most Likely Loss:
BYU on January 26. The Aztecs could fall this weekend in the Pit vs New Mexico, but if not, will surely see a defeat when Jimmer is unleashed in two weeks.
Photo: AP