Posted by Eric Angevine
The Creighton Bluejays lost a bit of national luster when Dana Altman departed to Oregon , but the program made a nice hire in luring Greg McDermott from Iowa State to take over in Omaha. McDermott was no doubt comforted by the knowledge that a game-changing player was already enrolled at the school and ready to make his life easier at the end of the fall semester.
Gregory Echenique left Rutgers before former Scarlet Knights head coach Fred Hill was dismissed, but he no doubt feels relieved to have missed the drama. The transition from Altman to McDermott has been a smooth one.
"I'm 6-foot-8 myself, so I think it helped that I had played the position that Gregory plays," said the 46-year-old head coach, who manned the front line for Northern Iowa in the mid-1980s. "It was evident to me that Gregory r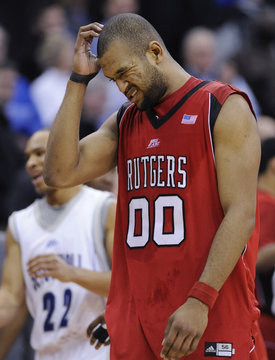 eally loves Creighton, has developed a lot of friendships – not just on the team but around campus – and that made it a lot easier to sell. This is where he wants to be."
The atmosphere at the small, private Midwestern school clearly agrees with the big man from Venezuela. He was pushing three bills when he left Rutgers, but his head coach says he's proven his dedication to becoming a great player by shedding 30-plus pounds since he arrived in Omaha. His physical game is expected to impact Creighton's prospects greatly as his mind and muscles gradually recall how to play the game they have missed over the past year.
A mid-season transfer, Echenique became eligible to take the floor for the Bluejays on December 18. At the time, the Jays were 5-4, having suffered near-miss losses to Nebraska and Iowa State (the team McDermott left to come to Creighton) as well as double-digit setbacks against Northwestern and Brigham Young.
"Looking back, we lost one-possession games at Nebraska and with Iowa State on a neutral floor. I don't think there's any question that he would have had an impact on those two games," said McDermott. "Because of his ability to score, he draws a lot of attention, and really demands a double-team or some help in some fashion. In the first four games he really impacted our team with his presence defensively and his ability to score around the basket. "
Echenique has actually appeared in five games for the Bluejays, but his head coach isn't counting the January 1 game against Drake, in which the man-mountain was hampered by foul trouble that limited him to six minutes of play in the win, which pushed the Bluejays to 2-0 in the MVC. His absence from the game reminded fans that the team already has a potent scoring trio, which was led on that night by Doug McDermott, the coach's freshman son, who poured in a career-high 28 and grabbed 10 rebounds. Senior center Kenny Lawson also had a double-double (14/16) and junior guard Antoine Young added 15. Still, there's little doubt that Creighton would prefer to keep Echenique on the floor now that they've finally seen what he can do.
"Our high-low game functions a little bit more smoothly than it did before because of his presence down low," the elder McDermott confirmed. "Defensively, he's big enough and a good enough shot blocker that he's blocked nine shots in four games. He's changed the game defensively, and the attention he attracts on the offensive end makes it much easier for his teammates."
The head coach doesn't want to see his newest weapon become tentative on the blocks in the wake of the foul-plagued outing. He has cautioned Echenique to stay aggressive; to earn his fouls instead of succumbing to fear of the ticky-tack. The Bluejays will need him at full strength as they prepare to take on 2-0 league rival Missouri State on Tuesday night. His coach knows he is capable of drawing more fouls than he commits.
"Playing in four games, he's been to the free throw line 33 times," said Greg McDermott. "Obviously, he's going to be fresh tomorrow night, because he only played six minutes the other night. He should be ready to go."
Missouri Valley rivals, consider yourselves warned.
Photo: AP