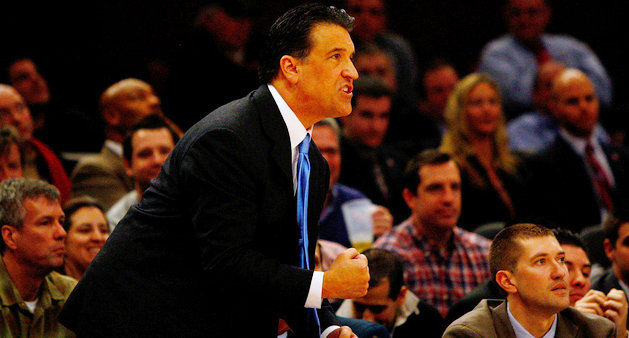 Test(Getty Images)

Posted by Matt Norlander
The Johnnies
picked up their most significant win
in, well, a long, long time tonight.
The 61-58 home victory over No. 13 Georgetown was not a stunning win, despite the AP's headline linked above, but it was still a bit unexpected. After all, St. John's
had stumbled
against St. Bonaventure and Fordham, losing those games back to back just three weeks ago. I'll disagree with our good friend Rob Dauster, who is
trying to poop on partiers
in Queens tonight. (Such a downer, that Dauster.)
After a 3-0 start in Big East play, those memories of bad losses have to feel 4,000 miles away.
The clutch win, catalyzed by the play of Dwight Hardy (an impressive 20-point, onion-filled performance), was a big one in the big picture, as St. John's now faces a gauntlet unlike anything any other team in the country will endure: at Notre Dame, Syracuse, Notre Dame, at Louisville, Cincinnati, at Georgetown, Duke.
Then January ends.
Who knows if
Georgetown's really sliding.
But in a game that featured just 54 possessions (a very low number for the tempo-free ignorant), St. John's, not the veteran team that's shown the capability to adapt to different pace, kept its cool and didn't faulter down the stretch. The Hoyas rebounded and shot better, but it was because St. John's turned over the ball on
only 7.5 percent of its possessions
that it had a chance. The free-throw shooting also came in handy.
A fun game that got the Garden alive (legendary former head coach Louie Carnesecca was the beneficiary of about 35 cutaway TV shots, too), it's now time to change our perception of the Johnnies, even if they do go on a skid upcoming, we'll know they're capable of some good wins. They'll be capable of, at the very least, playing spoiler.
Right now, they're early contenders.
Photo: Getty Images