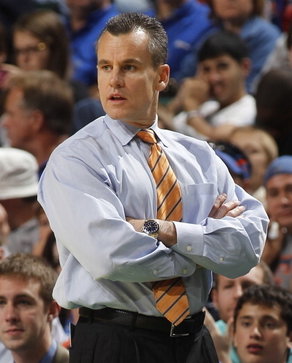 Posted by Matt Norlander
Sneaky game took place down in Gainesville this afternoon, as newly ranked No. 20 Florida took on the Dolphins from Jacksonville.
I couldn't blame you for forgetting about the game, or simply not caring that it was taking place. After all, it was a 1 p.m. tip on a Monday. (Scheduling conflicts with the women's team caused this to occur.)
But what's this? A
71-68 overtime loss for the Gators?
Just the latest confusing result for Billy Donovan's program, which hasn't shown signs of being a legitimate, consistent group in the SEC or on a national scale since the Gators cut down the nets following their second straight national title in 2007. No reason why Florida won't recover rather quickly, but with the talent on this year's team, it really has no business losing games like this. Need I remind you this loss came at home, in the Stephen C. O'Connell Center, where UF was a
97 percent favorite to take down the Fins.
What we have here is the definition of a letdown game. A trap game. Whatever you'd like to call it, Florida fits the definition. After the Gators
took seven minutes to score on Kansas State Saturday
afternoon, they rallied and took the legs out from underneath the Wildcats, rolling to a 57-44 victory. It was a really, really nice win, even if K-State has questions of its own that linger.
But the good feelings couldn't last. I'm writing this post as the post-mortems on the game are still being scribbled down in Gainesville. We're waiting on response from Donovan, because explanations are needed after losing to a 7-3 Jacksonville team that
doesn't have one win against a team rated in the KenPom top 200.
Wonder what practice and prep for 2-8 Radford will be like. That game is 51 hours away.
Florida falls to 8-3 with this loss, which will certainly hurt its power-rating numbers down the road. Could this cost UF a seed line come March? Absolutely. Florida's other two Ls have come to yet-to-lose clubs Ohio State and Central Florida.
Photo: Getty Images