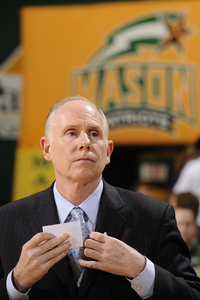 Posted by Eric Angevine


When a coach departs from a job he's held for a good while, the reactions range from resignation to disbelief to outright anger in the fan base he leaves behind. It resembles nothing so much as the breakup of a long-term romantic relationship. Some folks bad-mouth the ex, more out of hurt than true anger. Others take the more grown-up approach of wishing the other well, staying in touch, and moving on with their lives.
T.J. Doyle, of SBNation DC,
takes the long view of the dissolution of the Masonnaga relationship
(hm, that portmanteau thing doesn't work as well for institutes of higher learning and coaches as it does for celebrity couples), counseling both parties to enjoy newfound love.
Honestly, everybody wins in the long run. Larranaga gets to head off to Miami, seemingly happy about his choice to lead the Hurricanes' basketball program out of ACC obscurity. George Mason gets to hire an up-and-coming young coach to lead a team entering next season with high expectations (rightfully so). The ending of this saga is a win-win for all involved.
Teej makes an excellent point here. Mason Nation will miss Larranaga, but there are plenty of other fish in the sea, and the school is currently a pretty good catch, thanks largely to the growth experienced in that previous long-term relationship (yes, this metaphor
is
getting a bit creepy; it ends here).
In that respect, Larranaga may have actually done GMU a favor. The job should attract the cream of the crop of young, able assistant coaches - the types of guys who turn out to be Brad Stevens or Shaka Smart - rather than a tired old retread or unproven tyro. Thanks to Larranaga and Smart, the CAA enjoys a national profile that blows any other non-power-conference out of the water right now. Throw in ODU's Blaine Taylor, Hofstra's Mo Cassara, Bruiser Flint at Drexel and the new blood at Towson and Georgia State, and you're looking at a conference that boasts a very impressive collection of coaching talent. Mason has a perfect opportunity to transition smoothly from Larranaga right now, an opportunity that might not have been so tangible had they waited for the 61-year-old coach to run out of gas and retire.
There are brilliant assistants biding their time in towns like Columbus, Lawrence, Lexington and Durham, waiting for a perfect gig like this one to come along.
Obviously, a younger coach might view the Mason job as a stepping-stone. He might stay three or four years and then jump to the Big Ten, or, god forbid, the SEC. Big deal. VCU made it to the Final Four by making intelligent hiring decisions and building on the energy of each short-term fling (sorry, I said I was going to stop). On the other hand, they may get lucky and find a dedicated program-builder like Taylor (ten years and counting at ODU) or get in on the ground floor with the next Larranaga (he was 47 when he took over in Fairfax). The possibilities are as enticing as they'll ever be right now.
Mason wouldn't be a title-winning, Final Four banner-flying, national reputation-having program if Larranaga hadn't made it so over the past 14 years. Nobody can knock that result, no matter how much they wanted him to stay. Mason fans need to wish him well, thank him for his service, and maybe give him a nice set of golf clubs as a parting gift. Then they need to throw themselves enthusiastically into celebrating the promise of springtime renewal under new leadership.
This is a scenario in which everyone can end up happy.
Photo: US Presswire