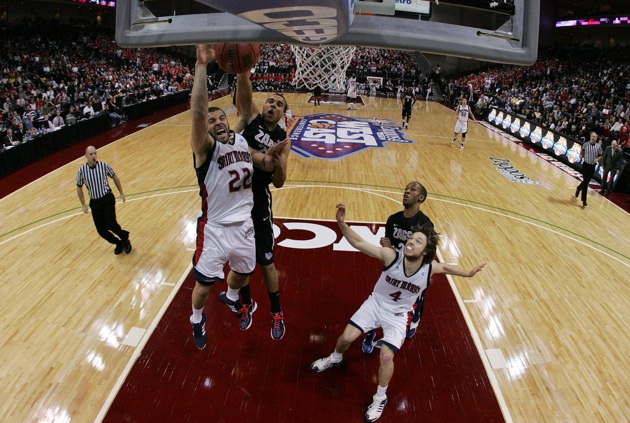 By Jeff Borzello
Several important games highlight the docket on Thursday, including one of the best conference games every year.
Note: All times are Eastern, and the rankings are according to the AP poll.
Best game: No. 21 Gonzaga at Saint Mary's (11 p.m., ESPN2): Always one of the best battles of the conference season, these two have had some excellent tilts for conference supremacy in the past few years. The matchup to watch will be Gonzaga's Elias Harris vs. Rob Jones of Saint Mary's at the forward spot. Jones is extremely versatile, while Harris is tough to stop down low. Matthew Dellavedova has to knock down shots from the perimeter for the Gaels. No team has gotten closer than 15 points on the Gaels' home court this season.
Second-best game: No. 16 Virginia at No. 8 Duke (9 p.m., ESPN). This is the game Virginia can use to prove it is for real this season. The Cavaliers have won 12 in a row since a two-point loss to TCU, but they haven't been tested a ton on the road. Duke has had several close calls recently, including a loss to Temple last week. If Tony Bennett's troops are going to pull off the road upset, Mike Scott needs to dominate inside and the Cavaliers' guards have to take advantage of Duke's mediocre perimeter defense.
Another one to watch: Wisconsin at Purdue (7 p.m., ESPN). What is going on with the Badgers? They have lost three in a row, including Sunday's 18-point defeat at Wisconsin. Will they bounce back on the road against a Boilermakers team that has lost 0 home games since Feb. 28, 2010. If Lewis Jackson or Kelsey Barlow can contain Jordan Taylor, Wisconsin's offense becomes non-existent. On the other side, Robbie Hummel creates a matchup problem for Wisconsin.
Guaranteed win: No. 15 Murray State looks to stay undefeated against Jacksonville State. The Gamecocks are just 1-4 in Ohio Valley play and 4-12 against Division-I opponents this season. They also haven't won a road game in almost a year. Murray State should stay unblemished for another day.
Potential upset: Oral Roberts is sitting at 6-0 in the Summit right now, but its road trip to Western Illinois won't be a walk in the park. The Leathernecks have won three in a row and are 9-3 since dropping their opening two games. Terell Parks has to step up down low against Dominique Morrison.
Three things to keep an eye on:
Minnesota is 0-4 in the Big Ten after going 12-1 in non-league play. The Gophers look for a win at No. 7 Indiana (8 p.m., Big Ten Network).
The two best teams in the Big South battle for first place, as 5-0 UNC-Asheville takes on 4-1 Campbell.
Colorado looks to stay unbeaten in Pac-12 play against California (11 p.m., CSN California), while Oregon State and Arizona also go head-to-head (10:30 p.m., FSN).
Photo: US Presswire
More College Basketball coverage