Talk about validation for Little Ray.
Everyone questioned Ray McCallum's decision to spurn the big boys -- UCLA and Arizona included -- to play for his dad in the Horizon for Detroit.
However, the father-son duo just got the Titans into the NCAA tournament after an upset over top-seeded Valparaiso in the hostile confines of the 5,000-seat Athletics-Recreation Center.
The win got Detroit into the Big Dance for the first time since 1999 and also snapped a five-game losing skid against the Crusaders.
McCallum finished with 26 points, six rebounds and five assists in the semifinal win over Cleveland State and had 19 in the victory against Valpo.
But this team has more than just Little Ray. Senior guard Chase Simon helps on the perimeter and the Titans have a couple of legitimate bigs in LaMarcus Lowe and Eli Holman, the Indiana transfer who comes off the bench.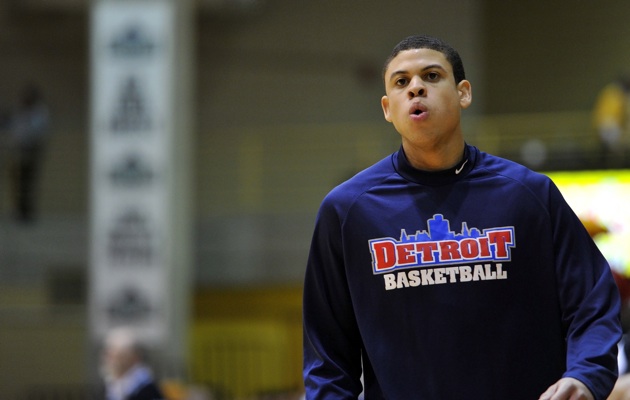 Ray McCallum and his father led Detroit to the NCAA tournament for the first time since 1999. (US Presswire)
Player to know: Ray McCallum - Little Ray opted to play for his dad despite having offers from plenty of high-major programs. The sophomore point guard had a terrific season, averaging 15.5 points, 4.5 rebounds and 4 assists per game this season. He's led the team in scoring, assists and steals both years in college.
The Vitals:
Record: 22-13 overall, 11-7 in Horizon
Most recent tournament appearance: 1999
We're thinking: 14
KenPom ranking: 131
Sagarin ranking: 133
RPI: 136
Best wins: Cleveland State, Butler (twice)
Worst losses: UIC, Youngstown State
Notable stat: Ray McCallum is in his third head coaching gig. He was 126-76 in seven seasons at Ball State, spent four years at Houston (44-73 mark) and is in his fourth season at Detroit.
-- Jeff Goodman