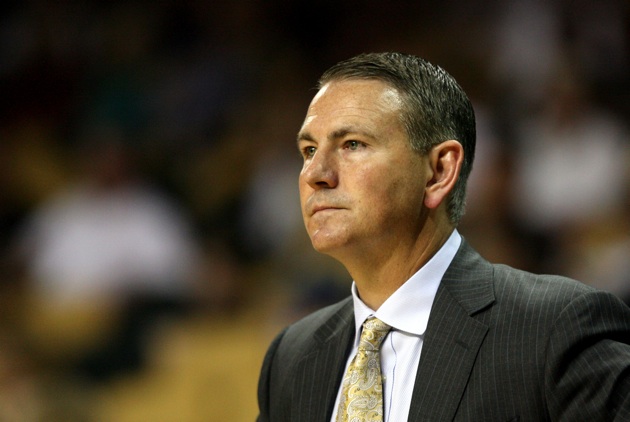 Donnie Jones and UCF will appear before the NCAA in April. The school self-imposed sanctions today. (US Presswire)
UCF will appear before the NCAA's Committee on Infractions in April, but the school announced Monday several self-imposed sanctions in both football and basketball.
On the basketball side, there were no self-imposed postseason bans, but scholarships, recruiting hours and wins were taken away. From the Orlando Sentinel:
Vacate all wins for the three seasons from 2008-2011.
Remove one scholarship for the next two seasons, from 13 to 12.
Reduce the number of coaches allowed to simultaneously recruit off-campus from three to two, while also prohibiting all basketball coaches from engaging in off-campus during two of the three July evaluation periods for the next two years.
Reduce the number of recruiting days to 25.
Issue letters of reprimand to head coach Donnie Jones and assistant coach Darren Tillis. Jones was suspended for the first three Conference USA games, while Tillis was suspended for two.
Jones and Tillis cannot receive bonuses or salary increases for the 2012 and 2013 fiscal years.
The issue with the NCAA stems from reports in April that said Ken Caldwell was acting as a runner between agents and potential UCF recruits. Caldwell also allegedly acted as a representative of the university, according to reports in the New York Times and ESPN.com.
Senior guard A.J. Rompza was ineligible for the first 12 games of this season after it was found out he received $900 in payments from Caldwell. Overall, there were 11 potential UCF recruits tied to Caldwell, although only Rompza was the only one who ended up with the Knights.