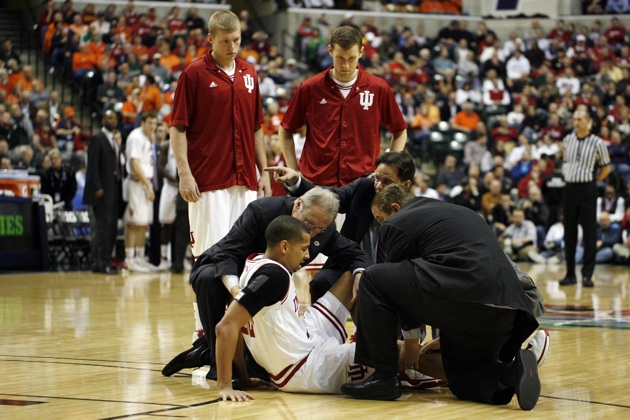 The extent of Verdell Jones III's knee injury isn't known, but Tom Crean didn't sound optimistic. (US Presswire)
The final week before Selection Sunday has not been kind to the Big Ten. On Sunday, Michigan State freshman Branden Dawson went down with a torn ACL. There was more bad news on Thursday.
Indiana senior guard Verdell Jones suffered a knee injury in the Hoosiers' win over Penn State. The extent of the injury is unknown right now, but it didn't look good. Jones went to jump stop on a fast break, and immediately went down. It didn't sound good, and he was grimacing in pain.
Shana Daniels, an assistant media relations director at Indiana, tweeted that it was a sprained knee and he would be evaluated further.
In the postgame, head coach Tom Crean didn't sound nearly as optimistic when discussing the injury on his postgame radio show.
"It's not good," he said, nearing tears. "It's not good. Just got to hope of the best."
Jones, a 6-foot-5 senior, has played an integral part in Indiana's revival this season. His scoring numbers are down since earlier in his career, but he's still distributing fairly well. Moreover, his leadership has been a key with the younger players. Jones averaged 7.8 points and 3.2 assists this season.
We'll have more on this as more information is released.