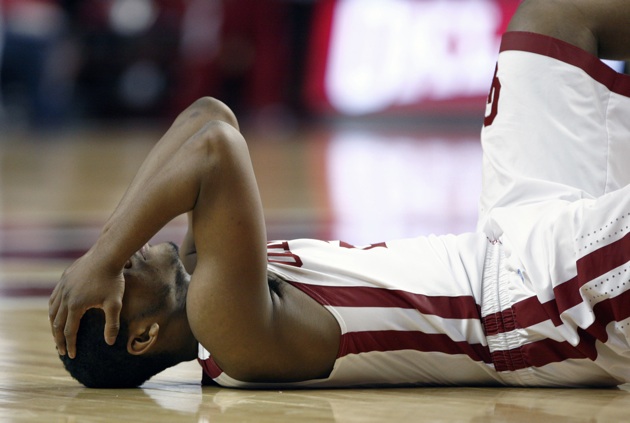 Oklahoma's Steven Pledger reacts after his game-tying 3-pointer rimmed out at the buzzer against Missouri. (AP)
Here's everything you need to know about Monday's slate of college basketball games …
Game of the day: Oklahoma has had several close games recently, and Monday night against Missouri was no different, with the Sooners falling, 71-68. Both teams came out of the gate knocking down shots, especially Marcus Denmon, who finished with 25 points. Missouri had the lead for the entire second half, but Oklahoma kept it within one possession for the final minutes. The Sooners had a chance to tie the game, but Romero Osby missed two free throws and Steven Pledger's 3-pointer at the buzzer rimmed out.
Win to brag about: Beating Texas A&M this season isn't the same as it was the past couple of years, but Texas couldn't afford another close loss (or a loss in general). The Longhorns were 0-7 in games decided by six points or fewer heading into Monday, but they held off Texas A&M down the stretch for a 70-68 win. J'Covan Brown had 20 points and seven assists to lead the Longhorns.
Loss to hide from: Remember when we thought Connecticut might turn things around after its win over Seton Hall on Saturday? Yeah, that didn't happen. The Huskies were outhustled, outmuscled and outworked by Louisville en route to an 80-59 loss. And it didn't even feel that close. Louisville shot 44 percent from 3-point range, and held Andre Drummond, Shabazz Napier and Jeremy Lamb to 16 points on 6-for-26 shooting.
Player who deserves improper benefits: Marquette's Jamil Wilson has only reached double-figures in scoring four times this season, and has not grabbed more than seven rebounds in a game. On Monday night, Wilson led Marquette to a 89-76 comeback win over DePaul, totaling 18 points, 10 rebounds, three assists, two steals and two blocks – on 8-for-12 shooting.
Player(s) who does not deserve improper benefits: Connecticut's debacle of an offensive performance deserves more than just one mention. Andre Drummond was dominated by Gorgui Dieng all night, as the Louisville big man finished with 15 points, six rebounds and six steals. Even worse, Drummond went 0-for-6 from the field and didn't score a single point. Drummond has all the talent in the world, but the desire is lacking.
Numbers don't lie:
4:

Four of Missouri's last five wins have been by three points or fewer.

3:45

: Vermont has trailed for just 3:45 in its last 133:02 played. The Catamounts have won seven in a row after beating Maine.

0

: Kennesaw State remains winless in the Atlantic Sun after losing at home to USC-Upstate. The Owls are 0-13 in the league, 2-22 vs. D-I competition.

93

: Southern beat Jackson State, 49-44. In overtime. That's 93 combined points in 45 minutes of basketball.

16:

South Carolina State had lost 16 games in a row before beating beating Longwood on Monday.
Three other notable results:
Mississippi Valley State is 11-0 in the SWAC after beating Alabama A&M. MVSU was just 1-11 in non-conference play.
Davidson has now won three in a row since dropping its first league game last weekend, beating Wofford by 22.
Stony Brook stayed atop the America East at 11-1 with a 57-48 victory over New Hampshire.
Notes:
Belmont steamrolled Austin Peay, 94-55, in a non-conference tilt.
Mercer took a half-game lead in the Atlantic Sun, beating East Tennessee State, 54-46.
Idaho State played Montana close for a half, but the Grizzlies dominated the second half in a 76-40 victory to move to 10-1 in the Big Sky.
More College Basketball coverage